Forward by The Revd. Donald Allchin,

Spiritual Writer and Theologian.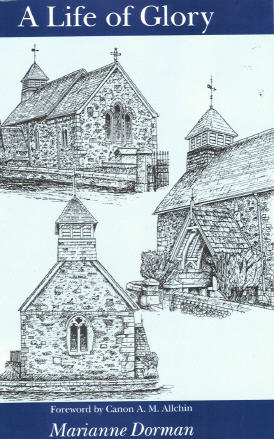 A LIFE OF GLORY

        BY

MARIANNE DORMAN

Cost: Sterling 7.50

        US dollars 11.50

For theological students $10.00

                                                       PREFACE



  Wherein his faithful discharge was such, as may make him justly a companion to the primitive Saints  and a pattern or more for the age he lived in.


Invariably when I think of George Herbert, I immediately recall the most spiritual and beautiful of all his poems, Love bade me welcome, beckoning us to the delights of heavenly Bread, and those poems, such as Teach me my God and King and King of glory, King of peace, which I have sung as hymns all my life. They embrace the crux of the Gospel: Love given for sinful man, and continually given in the Blessed Sacrament, and man in turn, responding to Love in his unworthy way, "I will love Thee," with "the cream of all my heart". They also contain the Christian concepts of service and devotion, praise and thanksgiving, "Seven whole days, not one in seven, I will praise Thee". Such poems have inspired not only me, but also many others to live in joy and praise: "With my utmost art \ I will sing Thee," and to be transformed by Love. Simone Weil once declared that by concentrating completely on reciting Love bade me welcome, she was able to rise above the physical oppressive affliction of a migraine, and be bathed in Love.

This book is designed for those who wish to know in a simple presentation something about the life and character of George Herbert, priest and poet, and to draw closer to God in their everyday living of the Christian life, by meditating on some of his poems. These have been suitably arranged under three headings: worship, the Christian year and Christian character for easy access and meditation.

.

This book is available from me.